To align with Apple App Store's 2022 requirements, Tithely introduced the ability for church app users to delete their accounts. This action spans across all Tithely products, upholding the privacy and control our users deserve.
Who Can Delete an Account?
Church App Users, excluding the Primary Admin or Account Owner, can initiate account deletion.
Account Owners, please get in touch with the Support team to delete your account.
Is there a difference between my Church App User and my Giving Account User?
No. Your giving account login and your church app login are the same. If you delete your church app user, you will also delete your giving account user.
What happens when an account is deleted from a church app?
The following things take place when a user deletes their App account:
The user is logged out of the App.

The login information for a user is removed (username, email, and password).

We remove app-related data and activity that has been stored for that user (chat history, sermon notes, sermon listening progress, etc.).

Any recurring donations for that person are stopped.

A "Request for Removal" request will be sent to the Primary Admin of the connected Tithely account. This request informs the church that they should remove their saved data from their database. See Requests for Removal in People for more information.
Will someone who deletes their giving account still receive a tax statement?
Yes, even with a deleted giving account, that person will still receive a tax statement at the end of the year.
Deleting Your Account
Access Account Settings by Tapping the Menu (top left).
Navigate to Account > My Details.
Scroll to the bottom and select Delete Account.
Choose Verification Method:


Password
Email Link
Text Message (Visible only if a phone number is associated)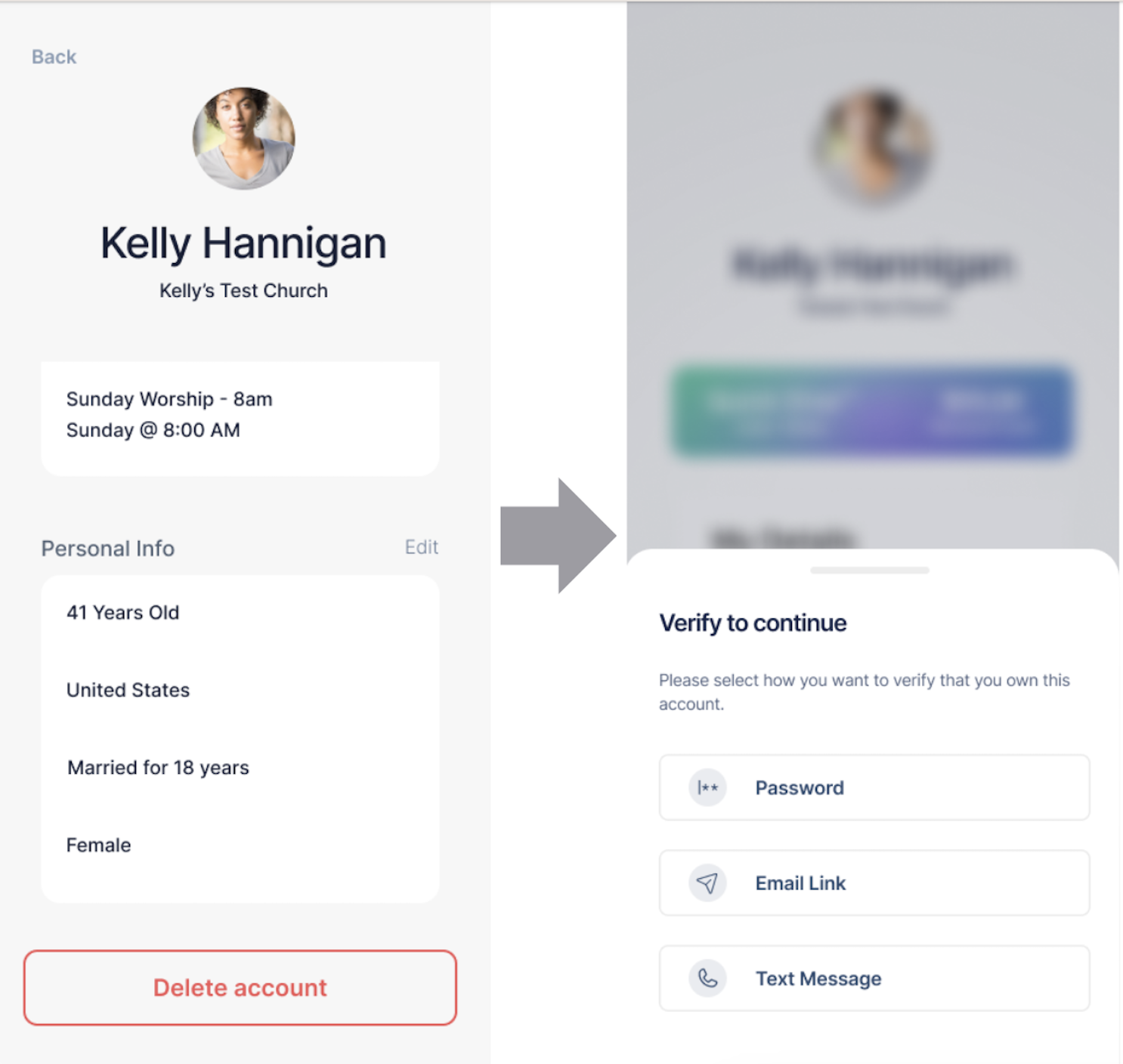 Verification Paths
Password Verification:
After selecting the Password Verification method, you will be prompted to input your password.
As you type, characters will appear as asterisks. Clicking on the eye icon lets you view the password. In case of an incorrect password, the field resets, allowing a reattempt.
Upon successful verification, you'll be presented with the options: "Cancel" (returns you to your profile) or "Yes, I'm Sure" (initiates deletion). After confirmation, you will see a message that the deletion process has commenced. Once completed, you'll be returned to the home/main app page.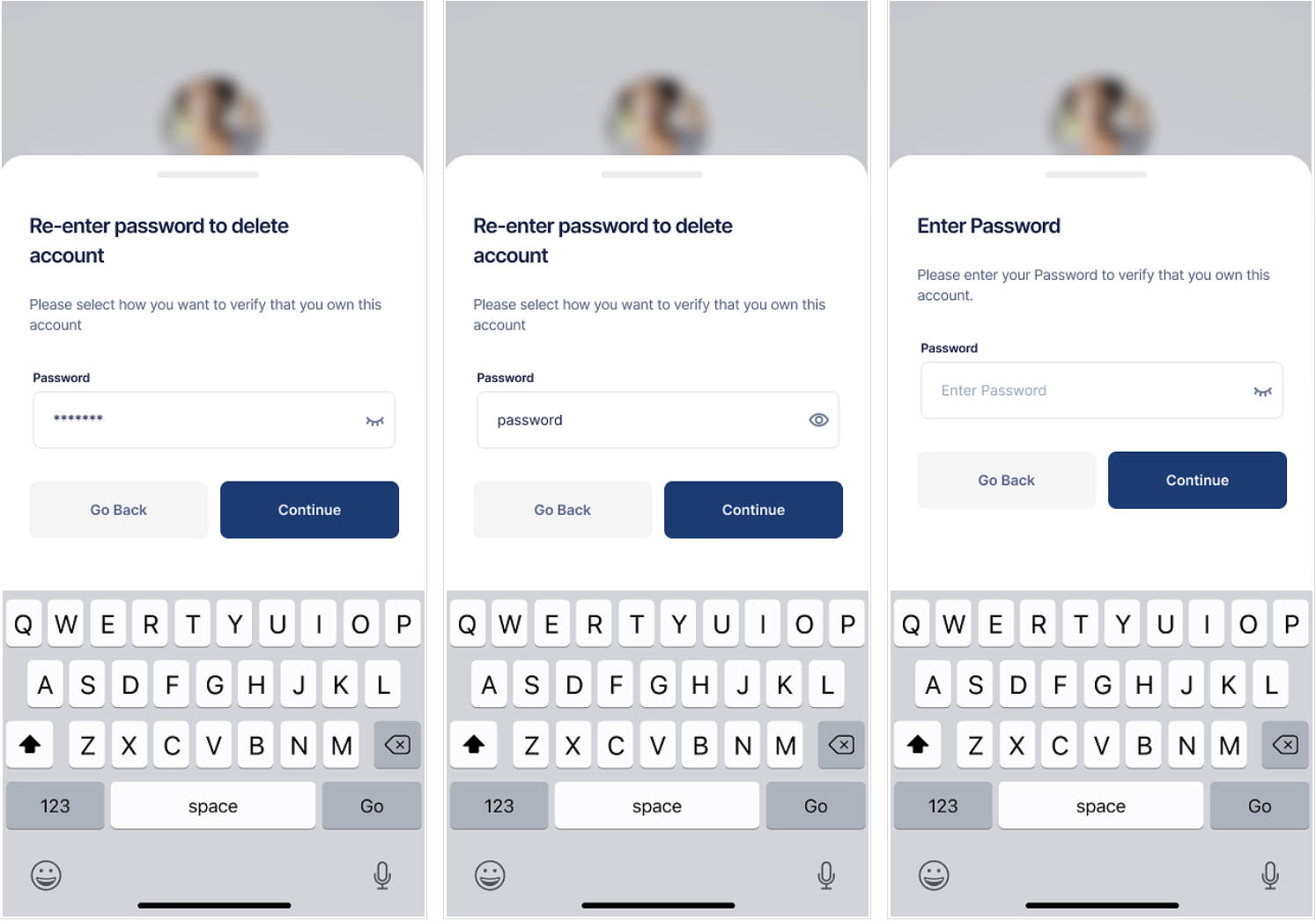 Email Verification:
Upon selecting Email Verification, an email is sent to the associated email address.
The App will indicate that the verification email has been sent. If not received, there's an option to "Resend Link".
On clicking the link in the email (valid for 2 minutes), you will be redirected back to the App, with options to continue or cancel the deletion.
After email verification, You'll be presented with the option to "Cancel" (returns you to your profile) or confirm "Yes, I'm Sure" (initiates deletion). You are then notified of the deletion commencement and, upon completion, are redirected to the home/main app page.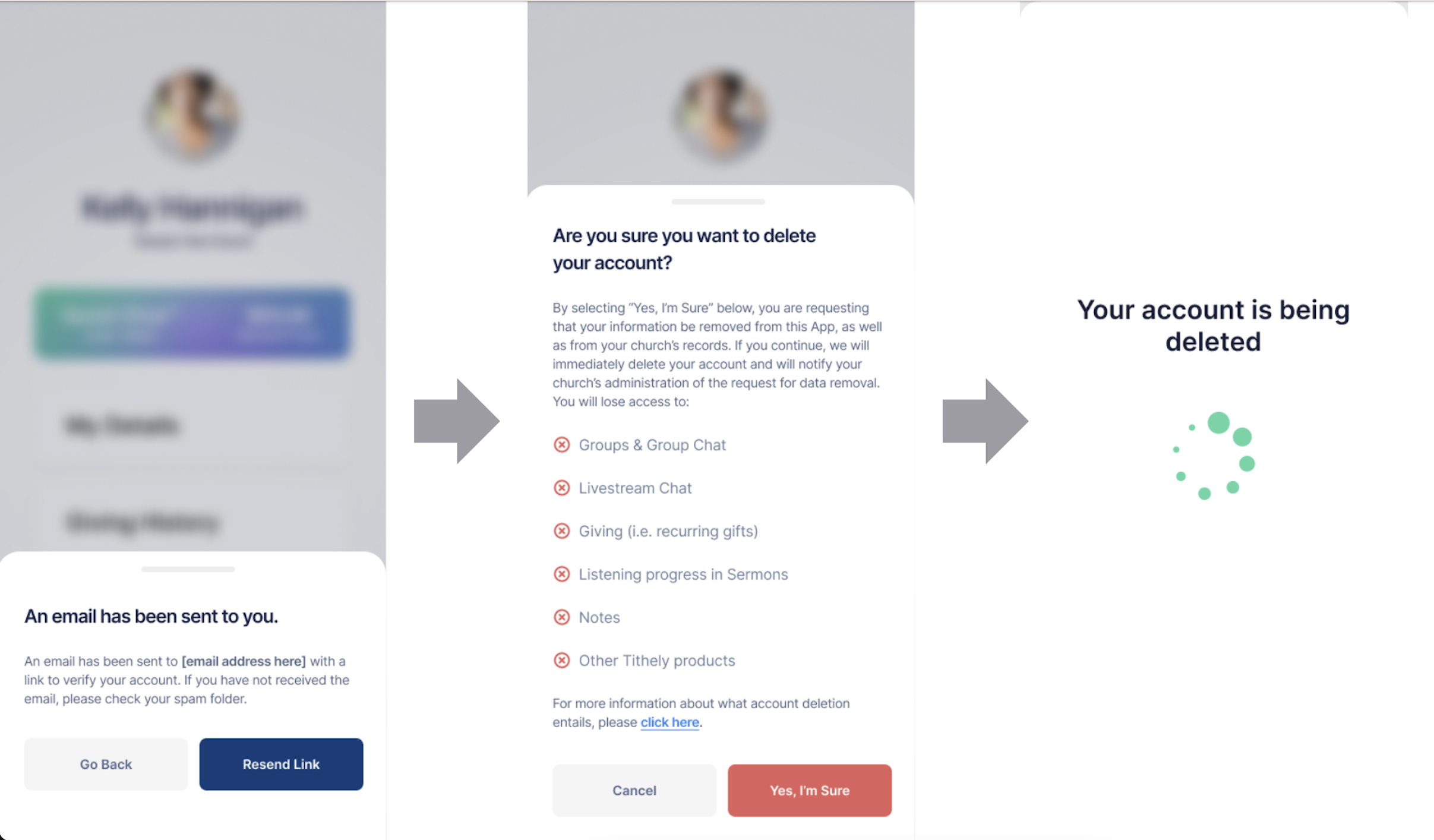 Text Message (Phone) Verification:
Opting for this prompts a code sent via SMS to the linked phone number.
You will be guided to input the Auth Code.
If the code is inaccurate, it can be re-entered. If not received, there's an option to "Resend Code".
After successful SMS verification, You'll be presented with the option to "Cancel" (return to profile) or select "Yes, I'm Sure" (begin deletion). A message will display informing you of the ongoing deletion, and after its conclusion, you'll land on the home/main app page.