You can customize the layout of most any page on your website using blocks (no coding knowledge required)! 🎉
Block Types
Below is a list of Blocks available and each block type also has several layout options.
Giving (available only to Tithe.ly Giving customers)
How To Add a Block
Login to your Tithely Site.

Navigate to the page you'd like to add your block.

Select the block type and a block will be added to your site.

Customize block content by clicking the edit pencils to edit content (controls appear as you hover over block element).

Change the style or layout of the block by clicking Edit Block which is on the top right of the block.
Tabs Within the Edit Controls (Dependant on Block Type):
Style

Overlay color and opacity

Height

Vertical Padding

Width Contained or Full-Width

Background

Image

Video (no sound)

Image Slideshow with Speed, Arrows, and Dot Opacity

Layout

Overlay Color and Opacity

Height

Layouts

Fonts

Heading and Subheading Fonts and Text

Button Labels and Links

Buttons

Icons

Settings

Published on/off

Display settings (visible on mobile, desktop, tablet)

Delete Block

Reorder Blocks on Page
How to Clone a Block
Cloning Blocks will allow you to clone a block to the same page. Please note, you cannot clone or paste a block to a separate page.
Login to your Tithely Site.
Navigate to the page the block you'd like to clone is on.
Click the Edit Block button at the top right corner of the block.
Select Settings (Gear Icon).
Click Clone Block. A pop-up will appear asking, 'Are you sure you want to clone this block?', click OK.
The block will be cloned on the same page, directly below the original block. You can re-order your blocks at any time.
How To Change a Block Layout
Every block type has different layout options.
Click the Edit Block icon in the top right of the block

Select Layout of choice from Layout tab and click Set Layout
How To Remove a Block
To remove a block, simply click the Edit block.
Click the Edit Block icon in the top right of the block.

Click the Settings (gear icon) tab, and click Delete.
How To Add Additional Elements to a Block
For example, the Icon Block by default has 3 icons across, simply click the 'Add element' button to add more icons to the block.
Overview Video of Blocks
Can't Add Blocks? Activate Site Design
You must activate Site Design to use Blocks on your website. To activate Site Design, Click the Admin Menu and select Design. Then click Activate Site Design.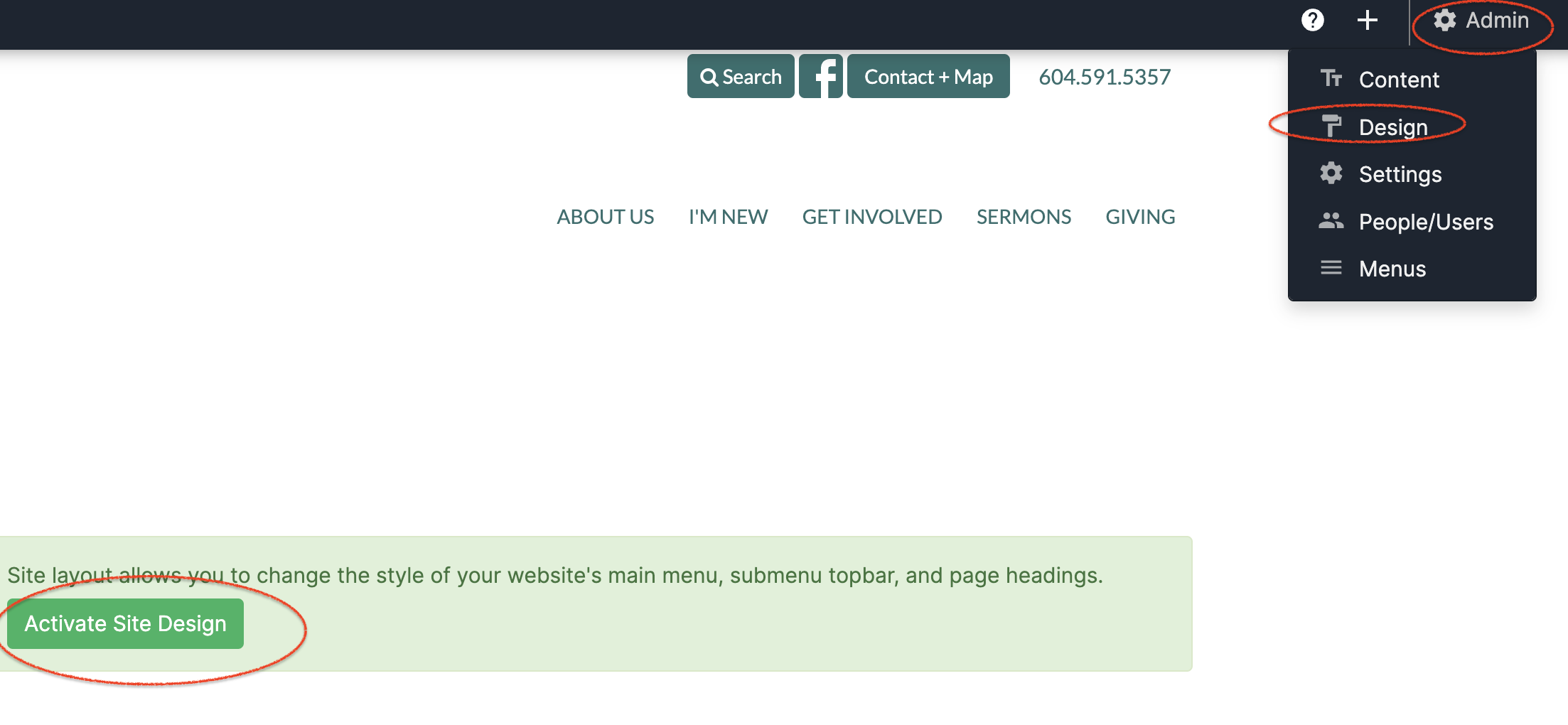 User Permissions needed to access Sites
Account Owner, Admin, or an Admin profile on the Tithely Site with direct login. Limited Access users will not have site access if permissions are only granted in the Tithely Dashboard. Limited Access users need to also be added to the site directly as an admin. If you have additional questions, please reference this article.