We'll cover how to access your site and the resource center using the Global Menu, log out of your account from the Global Menu, and how non-primary admins will access the site.
Accessing Your Tithely Site Using the Global Menu
The Global Menu allows administrators to navigate from one Tithely product to another easily.
The Global Menu is located in the bottom left corner while logged into your various Tithely products. This menu links to the Global Dashboard and the various Tithely products. While in a specific product, the corresponding icon will appear highlighted.
❗ Important Note: The Account Owner and Admin Users of the Tithely account can access the website directly from within the dashboard using the Sites link in the left side menu.
Log into your Tithely account.
Select Sites from the left side menu. Next, you'll be directed to your site. That's it!
Shown below is the Global Menu from within Sites.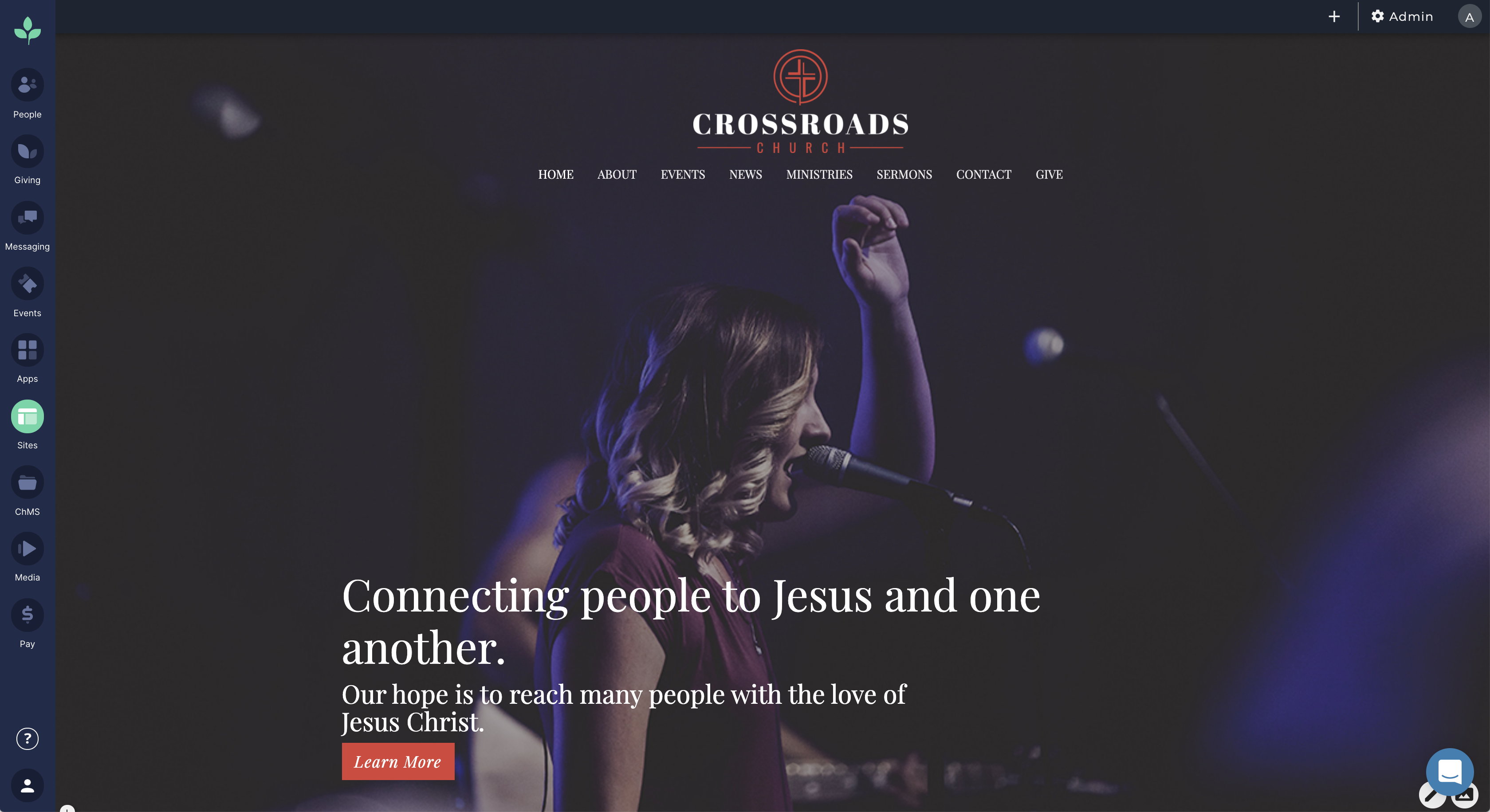 The Product Suite Dashboard (shown below) can be accessed via the Global Menu by selecting the Tithely logo (leaf) at the top left. This Dashboard will display each product for which you have an active subscription.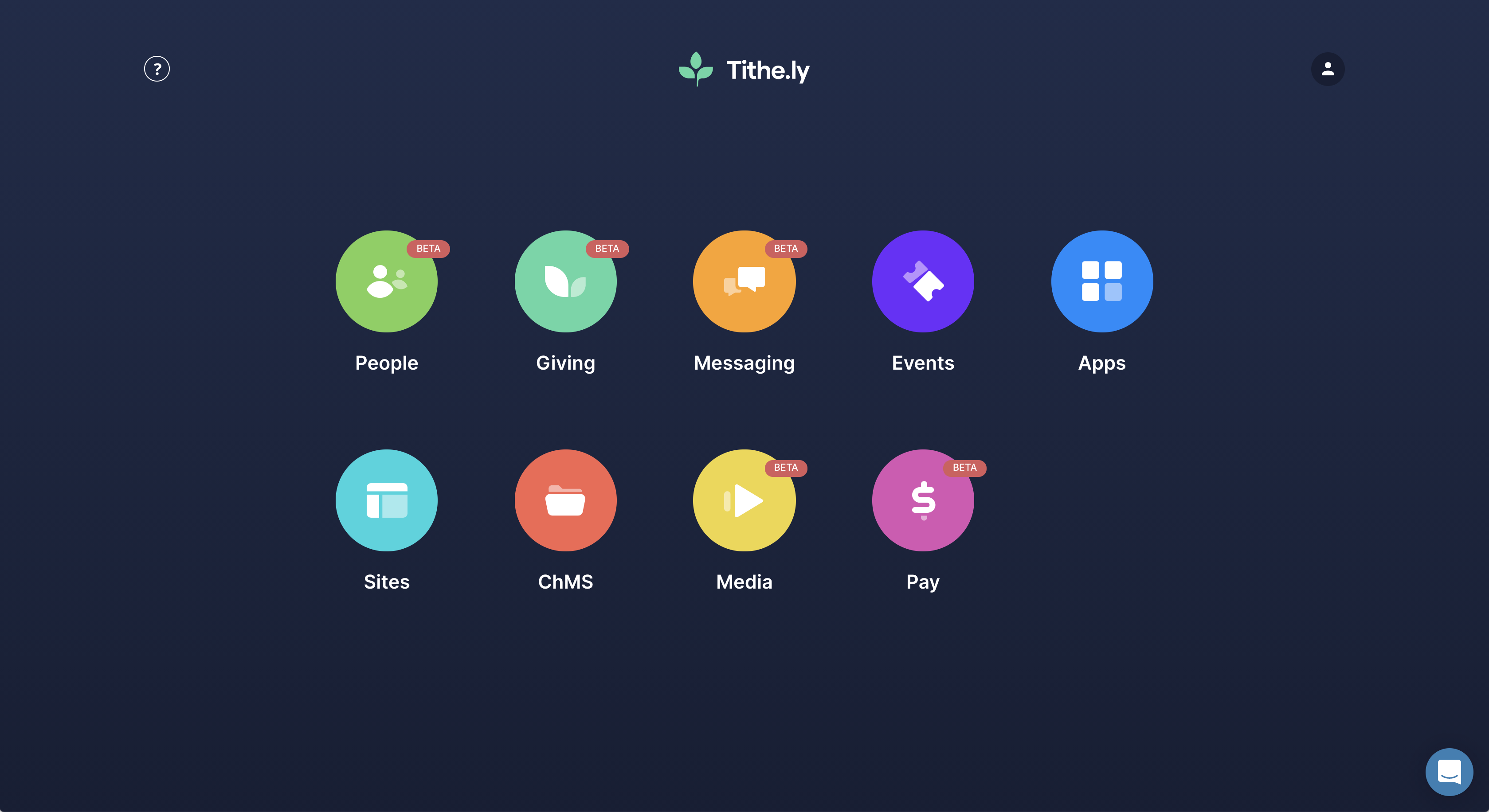 Accessing the Resource Center from the Global Menu
The question mark ( ? ) icon is found at the bottom of the Global Menu and provides quick access to the Resource Center.
The Resource Center includes Quickstart Guides, Product Announcements, Getting Started Videos, Help Articles and more.

Logging Out of Account From the Global Menu
The profile icon at the bottom of the Global Menu provides quick access to log out of your account. You can also access the Product Suite and Billing (at this time, only Messaging billing details are displayed in this area).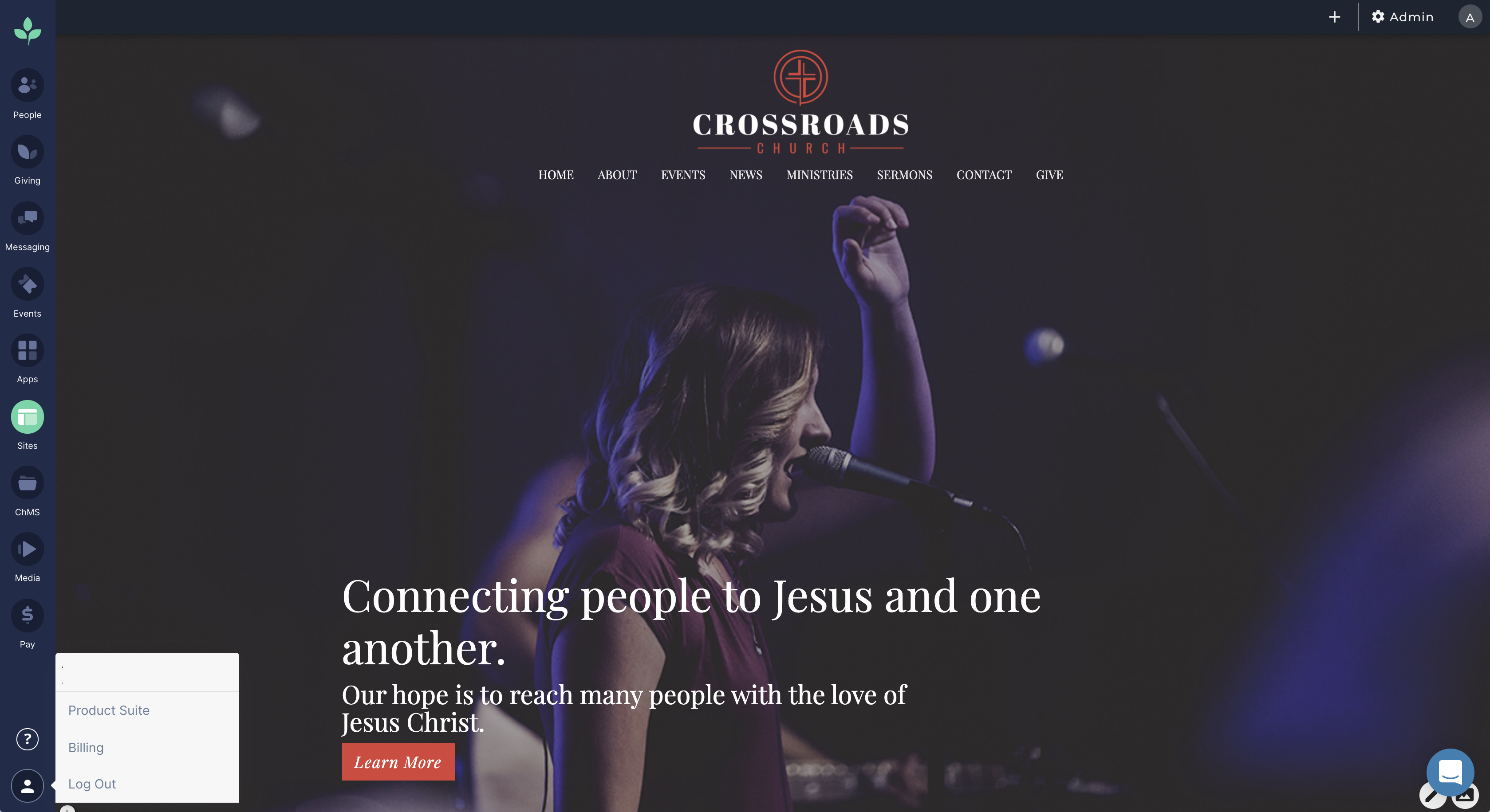 How Do Others Access the Website?
Anyone other than the Account Owner or Admins can access the website through the website domain (or staging domain) and use the login link found in the footer or by adding /login in after the domain. Example: yourchurch.tithelysetup.com/login
Note: Before your website launches, the domain will be a temporary staging domain ending in "tithelysetup.com" (or similar).
How to Add Other Users to the Website as an Account Owner
The Account Owner will need to access the staging site (using the steps outlined above) and log in to the site.
Next, create a new user on the website with Admin permissions (or permissions to edit specific website areas). You can learn how to add a new user to the website in Organization Groups and Adding a New User or Profile to Sites.
Then, provide the new user with the staging domain and login details.
You can copy and paste the following to pass along their information:
You've been added as a website admin user!
URL / Domain:
Email Address:
Password:
You can log in by adding /login in to the end of the domain or by scrolling to the bottom of the website and clicking the 'Login' link.